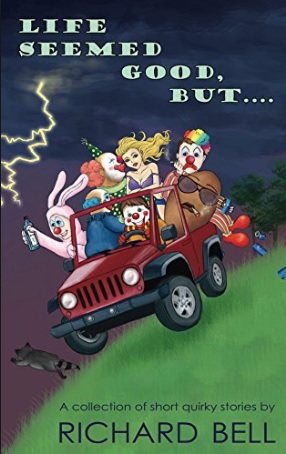 Richard Bell
Laughter is good medicine
Life Seemed Good, But… is a collection of over 90 short funny stories. Imagine a cross between Aesop's Fables and the Brothers Grimm. Richard started writing humor as therapy back in 2004 when his wife was diagnosed with leukemia. Shortly after that they were both laid off from there jobs. Since Richards stories helped him deal with the great stress he was under, he thought that perhaps they could help others as well.
Born in Chicago and now living in Wisconsin Richard started writing a monthly column for Wassup Local magazine called Modern Fables (Lake County IL) in 2008. In 2011 it turned into an eBook, and today it is a paperback. Richard donate proceeds from his book to cancer and Alzheimer's research at Rosalind Franklin University in North Chicago.
The book is rated PG for minor drug references, limited cartoon violence, anti-humor and bad puns. Due to circumstances, some of the stories are dark humor. It is a picture of life in and around the Mystee forest as viewed by a variety of talking animals, strange characters, and the author's twisted perception of reality, often involving lasers and aluminum foil. The stories appear random but contain many interconnections as well as hidden trivia. It just might be the funniest thing you ever read.
Books can be purchased at The Red Oak Restaurant