Highfield Farm and Creamery
Highfield Farm and Creamery is located in Lake Geneva area and home to about 20 Jersey cows and calves. The owners, Terry and Denise Woods, have been producing and perfecting their cheese curds and cave-aged cheeses for 5 years now. After the birth of their daughter the Woods decided to move back to the Midwest where they eventually bought quite a bit of land in Wisconsin in 1985. Not long after buying their first cow online, named Sephora, Terry decided to get into the cheese making business. He later found out that it requires more than just having a cow and the desire to make cheese.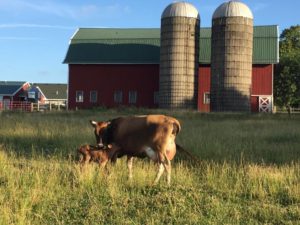 Wisconsin is the only state that requires cheesemakers to be licensed. Getting a license can take 18 months and requires attending five cheesemaking courses as well as 240 hours of apprenticeship with an existing licensed Wisconsin cheesemaker. Unfortunately, because of this strict guideline there are very few cheesemaking farmsteads in Wisconsin and even fewer small farmstead cheesemakers. Highfield Farm Creamery is the only licensed farmstead cheesemaker in southeastern Wisconsin. Terry was so serious about making cheese that he even traveled to Scotland to learn how to make cheese on a small scale. The Woods have the smallest milking parlor in the state of Wisconsin. They milk about 12 of their cows, two cows at a time, and make cheese twice a week. Because making cheese on a small scale is rare in Wisconsin, Terry had to go all the way to Amsterdam to commission a vat for his farm. Amsterdam has been making vats for small cheesemakers for the past 100 years.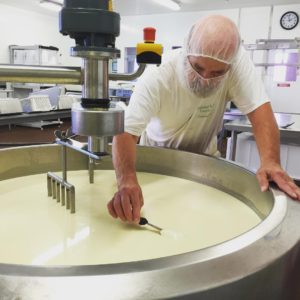 Terry and Denise take a very hands on approach to their cows and know all their personalities. To them the best and most important part about making cheese is the milk. So, they take extra care with the handling of the milk at the creamery level. Cows that come from large milk parlors produce six to seven gallons of milk each day and are milked two to three times per day. Terry and Denise milk their cows twice daily. The Wood's Jersey cows yield about 12% cheese which is about one pound of cheese per gallon of milk. They also make note and keep track of everything that happens to the milk and the cow so if a certain type of cheese comes out tasting a little different whether that be good or bad they can look back and know exactly what changed during the cheesemaking process.



Currently they make 5 different kinds of cheese: Cheese Curds, Cheddar Centennial, Stir Crazy, Roundabout and Village Square. You can find Highfield Farm Creamery cheeses at Pearce's Farm Stand, Fontana Farmers' Market and of course The Cheese Shop, which is located on their farm. You can also find Highfield Creamery Cheese Curds on our Wisconsin Summer Cheese & Sausage Board on this month's menu. Terry and Denise have no plans to expand their herd or to take on staff. They are perfectly happy to run their farm with each other and their happy cows! They are planning to offer cheesemaking classes for home cheesemakers and pasture walks, where they take a small group out into the pasture to see the cows and the fields where they play and hangout.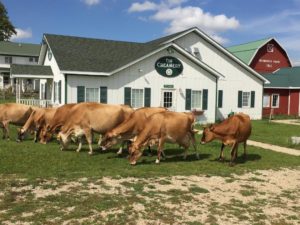 Go check out their beautiful happy cows and stay for some of their tasty fresh cheese at Highfield Farm Creamery!