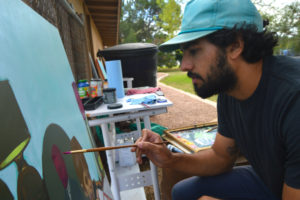 Raised in the countryside of Kenosha, WI; Hector Acuna is an emerging artist working with oil and watercolor/gouache.
​
The studio paintings portray people, both fictional and non-fictional, in moments constructed to challenge definitions of society. Stereotyping, materialism, and family relationships inspire concepts for these bodies of work. Shifting between the artist's candid family imagery to imagined portraiture as subjects provides room to discover conversations between developing paintings. Working "en plein air" informs and assists techniques used in studio work. Painting from life trains a painter's eye by offering insight into understanding subtlety and the affect of changing light and color. The process of layering pigment offers opportunities for reflection and risk taking which reveal new directions for the artwork.
​
Hector earned a Bachelor of Fine Arts from the University of Wisconsin-Stevens Point where he exhibited on campus and held a solo exhibition at the Scarrabochio Art Museum. As a student his paintings were recognized by the University where he received three scholarships and six awards including the Hipstamatic Entrepreneurship Award of $5,000. As a senior his painting "Portrait of the Poet: Emmitt James" won first place in the Gamblin Torrit Grey Competition. Since earning his degree, Hector has begun building his career as a fine artist selling his paintings to collectors throughout the US.
Website: acunaarts.com