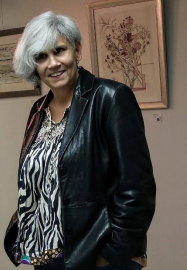 Juli Janovicz
Juli Janovicz paints the colors and the landscape as they feel. When she starts to paint Juli has a color in her head and though she has no idea where a painting will go, she always knows when a painting is finished. Juli captured the essence of the colors embedded in moments and the feeling evoked by those colors.
There is poetry in every painting. Artists attempt to capture the essence between what is seen and what can't be explained. That every viewer interprets paintings differently continues to be one of the inexplicable mysteries of art.
Juli arrived at painting from other art forms with a B.A. in English and a Master's in Library and Information Science. She has immersed herself in cottage gardening for more than twenty-five years, studying garden design, color theory, antique flowers and historic gardens. She took classes in the studio art program in Expressive Botanical Arts at the Chicago Botanic Garden, Glencoe, Illinois. Juli has a studio at 16th Street Studios, located in the Racine Business Center, Racine, WI. Her work can be found at local galleries in the Racine and Kenosha area.
To lmore about Juli Janovicz and see more of her artwork visit her Website.